2018 - 2019 Installation at Nashville Airport
Answering an artist call for creating art in an airport landed me an installation at Nashville International Airport. Specifically the call asked for art that would hang in a skylight 28 feet in length x 10 feet in width x 8 feet in height. It needs to weigh under 300 lbs and it needs to hang for a year. That means it needs to remain static with hot Tennessee skylight temps. As in please do not make us call you to come repair your precious artwork.
The call also came with a theme. It had to incorporate the Bonnaroo Music Festival and adhere to one of their Bonnaroovian Codes. I choose "Play as a Team." The epic center of the festival is a multi colored arch that lights up at night. The installation has the iconic arch on it with 208 moving figures from my "Six Degrees" design of interlocking men.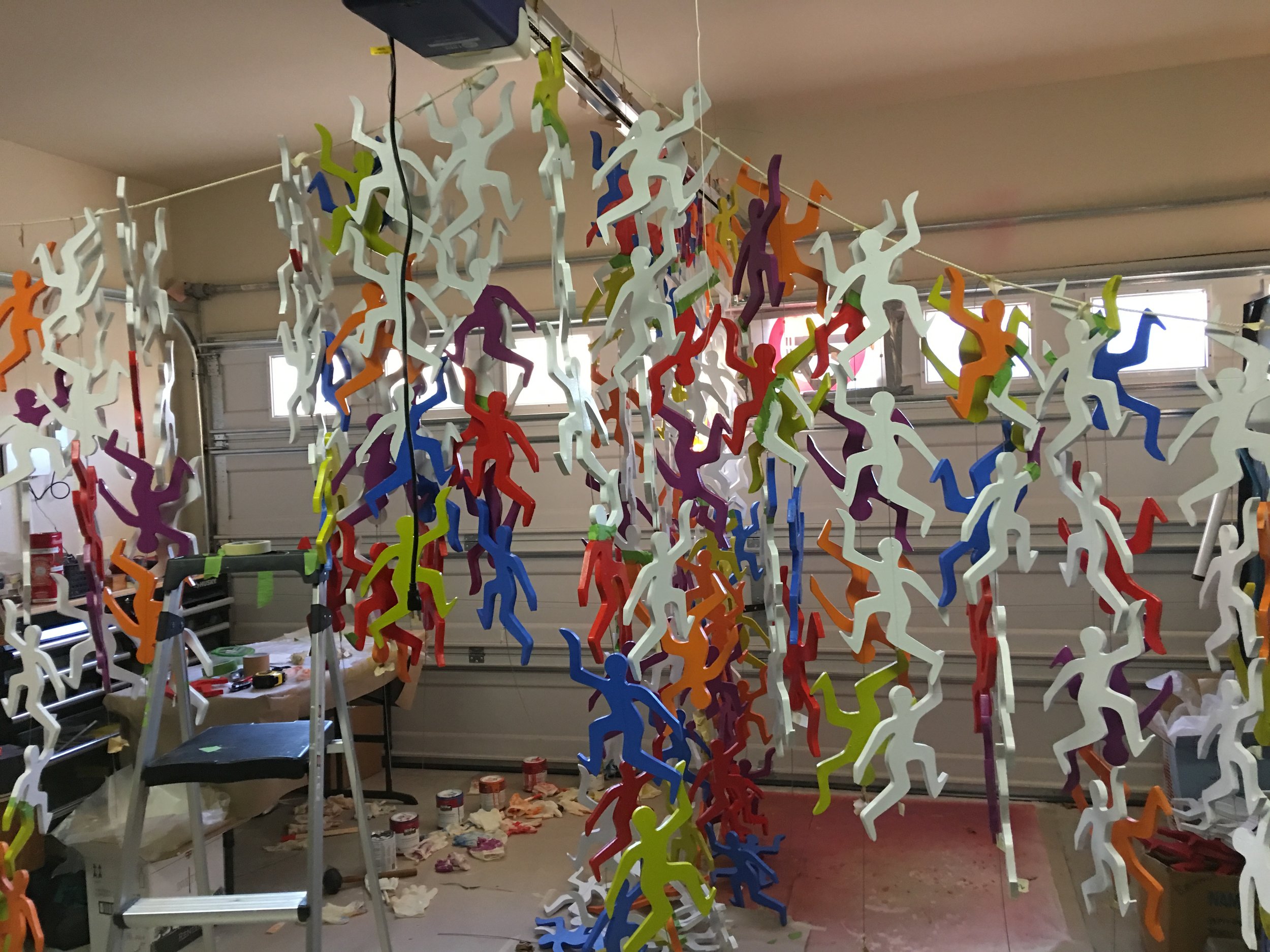 Moving forward to production, going solo was not an option.
It's my first collaboration. I choose my sister, Madge Darlington. Madge has been in theater all of her life. She lives and breathes it as a co-Founder and Director of Rude Mechs in Austin, Texas. She also went back to school and received a MFA in Theater Design. Pretty much she makes magic happen. I admit part of the reason for the collaboration was to be closer to her. She has two sons in high school, is married to a prolific writer/poet/professor and her household includes my mother. It's hectic. Oh, she also sells real estate.
If you're at the Nashville Airport now through February 2019 go to Concourse B near Gate 2 and see it.
Here are a few production shots which also include my Mother, Barbara, and my other sister from Atlanta, Carol. Carol is also in the arts and works in ceramics under the name Carol Elizabeth Pottery. This was a great way to start the year. We had so many laughs playing with the "men."